Posted on Jul 24, 2011 | Tags: modx, wamp, web development
Having installed Wampserver in Modx Revolution Development with Wampserver - Part 01 - Installation of Wampserver, we now need to visit the download page of Modx Revolution at http://modx.com/revolution/download/ for the program we will be working with. There are two types of downloads: Traditional and Advanced. We will be downloading the Traditional version.
After download, we extract the archive to c:\wamp\www, the default web root created for us when we installed Wampserver. We then rename the extracted folder to 'myrevo' as in the image below: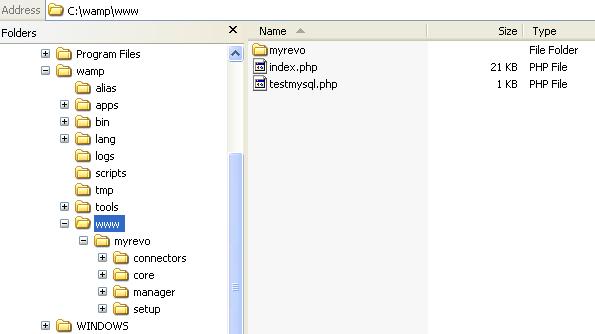 We are creating a folder for our site simply because we may wish to run several unrelated sites from the same installation of wampserver which would not be straightforward if we were to extract the modx files directly under the www root directory.
We are now ready to install Modx Revolution. We launch our browser and type in http://localhost/myrevo/setup to get the first installation page asking us to choose our language. If you cannot see this first page, it probably means that wampserver has not been started due to the machine having been switched off. By default, the apache and mysql services do not start automatically when Windows starts. We can change this behaviour by going into Services and specifying Automatic start for both wampapache and wampmysqld services. We can also leave the default settings alone and start wampserver manually each time by launching it from the All programs menu or create a shortcut for it somewhere.
With language selected, we click on Next till we get to the Install Options screen where we accept the suggested options, i.e. we want a New Installation, then Next to provide our database details as follows:
database type: mysql
database host: localhost
database login name: root
database password: leave blank (we don't have any)
database name: revolution (the name we created with phpMyAdmin in Part 1). If we don't change this, and since we are using root privileges, Modx revolution will create and use the default database called 'modx'.
table prefix: leave as is, i.e. 'modx_'.
We then check that Modx revolution can connect to our system by clicking on the Test database link.
We follow on by specifying our 'Connection character set' and 'Collation' and confirm by clicking on the 'Create or test..' link. On success, we are asked to provide our admin login details after which we click on Next to see the Installation Summary and begin the actual installation process. The snapshots for my version appear as per the images below: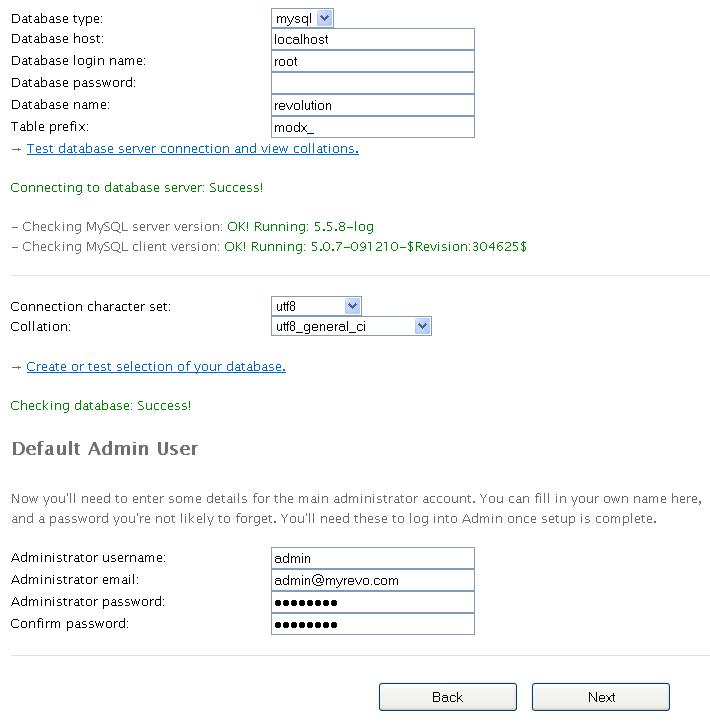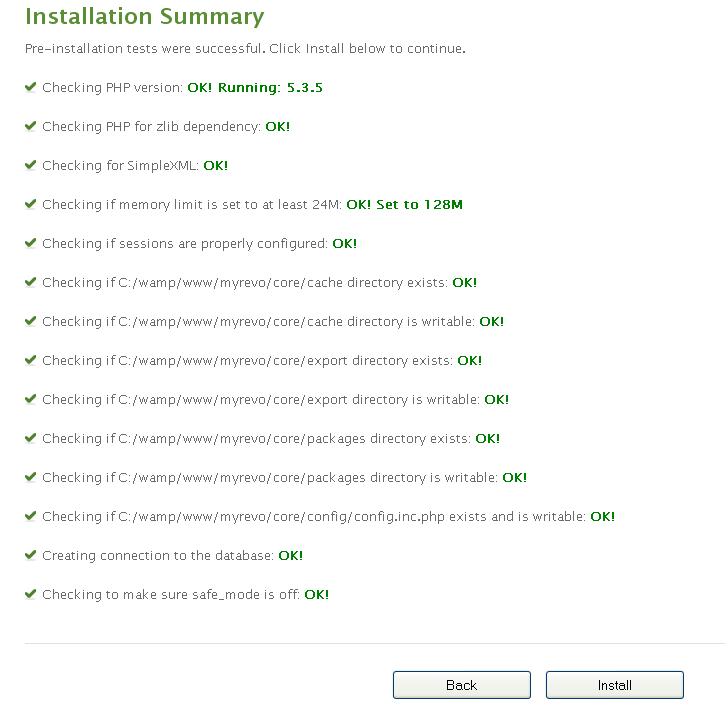 When we login for the time, we will be warned that the configuration file is still writable.

We can easily fix this by using Windows Explorer to navigate to c:/wamp/www/core/ and setting Read Only flag to config.inc.php
The backend (Manager) has tabs for Resources, Elements and Files. The Resources tab is where the web pages (or documents/resources) are created. Templates, Template Variables, Chunks, Snippets and Plugins are housed under Elements while the Files tab provides the ability for managing files. A fresh install of Modx Revolution may appear intimidating at first glance but it has a high level of intuitiveness and flexibility built into it
In the next part, Modx Revolution Development - Part 03 - Basic Systems Settings we will set up key system variables for our site.
---